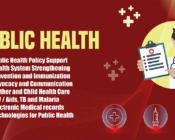 ---
10-07-2018 : First Aid Awareness Session at TF Pishin
20-06-2017 : First Aid Training Session at TFGS Mastung
---
Welcome to TF Health Initiative
TFHI is a public health initiative of Taaleem Foundation – an NGO striving to educate and engineer social change in the remote and under-privileged areas of Pakistan.
TFHI was born in Zhob (Fort Sandeman – Balochistan) during 1991, when Taaleem Foundation ventured in providing 'School Health Services' to the students and teachers of 'Taaleem Foundation Grammar School System', which at that time, comprised of only schools, one each at Kohlu and Zhob. Later when Taaleem Foundation's operation grew in expansion, so did its health initiative.
The expansion goes on – not only in terms of geographical coverage but also in the range of services offered. Starting from simply recording basic primary health care indicators of the target communities of teachers, students and their parents, the organization grew in offering social mobilization in public health, quality education, livelihood trainings and gender mainstreaming. It further invested its time, energy and resources in bridging the gap between the public sector professionals and private sector health operators. Linking the two is never so easy, but given the access and acceptability of its mother body, ie Taaleem Foundation in the communities, the TFHI thrives on adding the building blocks to climb up the ladder as a reliable service provider in this sector. TFHI has come up a long way in building the participatory development capacity of the target communities and issue-based networking.
While TFHI remains focused on school health services and public health / community health initiatives, it also build appropriate capacity in the service delivery with respect to primary health-care and specialized community home-based care. In the recent past, TFHI worked with the National AIDS Control Program as an SSR for providing professional services to the suspects and carriers of HIV/AIDS with outreach, identification, registration, counseling and referrals to ART centers / hospitals. TFHI also provided psycho-social, nutritional and livelihood support to the families of people living with HIV/AIDS and educational support to their wards enrolled in schools.
Our Partners
Government of Balochistan
Government of Balochistan - Pakistan
Government of Balochistan
Government of Azad Jammu & Kashmir- Pakistan
telecare_logo
Taaleem Foundation Grammar School System – Pakistan
bd
Taaleem Foundation - Pakistan

plabesk
Akhuwat - Pakistan
Riphah-Logo
Riphah International University - Pakistan
Riphah_Medical_Complex
Riphah International Medical Complex - Pakistan
pims
Pakistan Institute of Medical Sciences - Pakistan
TDC
The Diabetes Centre (TDC) - Islamabad
acco
KAWISH – Pakistan
telecare
TeleCare, Karachi - Pakistan
nimss
National Institute of Medical and Social Sciences (NIMSS) - Pakistan
medibank_trust_logo
MediBank Trust - Pakistan
DrQ
Talisium Health - Australia
ICT4E Consulting
EduCast
Health & Hygiene Ltd
IPAC Foundation
PPHI Balochistan
The Diabetes Center