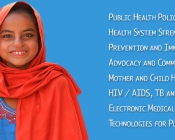 ---
10-07-2018 : First Aid Awareness Session at TF Pishin
20-06-2017 : First Aid Training Session at TFGS Mastung
---
Welcome to TF Health Initiative
TFHI is a public health initiative of Taaleem Foundation – an NGO striving to educate and engineer social change in the remote and under-privileged areas of Pakistan.
TFHI was born in Zhob (Fort Sandeman – Balochistan) during 1991, when Taaleem Foundation ventured in providing 'School Health Services' to the students and teachers of 'Taaleem Foundation Grammar School System', which at that time, comprised of only schools, one each at Kohlu and Zhob. Later when Taaleem Foundation's operation grew in expansion, so did its health initiative.
The expansion goes on – not only in terms of geographical coverage but also in the range of services offered. Starting from simply recording basic primary health care indicators of the target communities of teachers, students and their parents, the organization grew in offering social mobilization in public health, quality education, livelihood trainings and gender mainstreaming. It further invested its time, energy and resources in bridging the gap between the public sector professionals and private sector health operators. Linking the two is never so easy, but given the access and acceptability of its mother body, ie Taaleem Foundation in the communities, the TFHI thrives on adding the building blocks to climb up the ladder as a reliable service provider in this sector. TFHI has come up a long way in building the participatory development capacity of the target communities and issue-based networking.
TFHI strives to implement social change through quality services in primary healthcare in the under privileged areas of Pakistan. It promotes health education, community health, preventive care and research activities. It specializes in designing, developing and deploying technology based primary healthcare solutions, including EMR (Electronic Medical Records), health MIS, health system strengthening, health business process re-engineering, live video-streaming of health data, supply chain management, monitoring and evaluation and complete automation of the health sector through ERP (Enterprise Resource Planning) solutions. Gender awareness, participatory & consultative culture, public-private partnership and self-sustenance are the hallmarks of this organization. Institutional linkages with key public sector stalwarts, corporate entities, R&D institutions and development sector stakeholders are just a few success factors of this organization.